Ganwales Duchess Claire of Golden Fall
"Kim"
mehr Infos auf der Homepage "of Golden Fall" zu finden.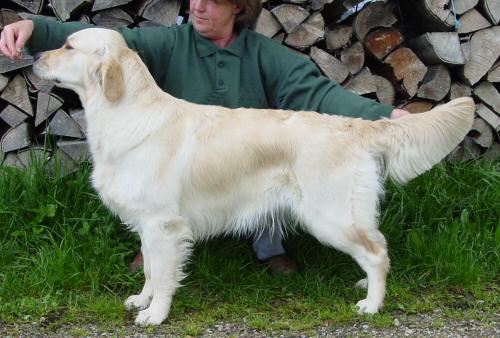 12 months
DOB 13.5.2004
HD A/A, ED 0/0, Augen PRA/HC/RD - frei
4.9.2005 Wesenstest bestanden
..... somit hat Kim alle Hürden für die Erteilung der Zuchtzulassung genommen. Rita ich gratuliere Dir und freue mich sehr, dass ich dir mit Kim eine Hündin geben konnte, die deinen Zwinger ".. of Golden Fall" weiter führen wird.
Ich bin stolz auf euch ! - Alles Liebe Michaela
Enjoy Your Lance of Golden Fall
Multi.CH, WW-2000
Lorinford Harlequin
CH Lorinford Lancelot
Lorinford Lovestory
Xanthos Ruby Murray
CH Ritzilyn Cockney Robin
Xanthos Rahnee
ÖJCH
Ganwales All Like an Angel
Moorfield Morning Archibald
CH Ritzlilyn Man About Town
Trewater Trouvaille
ÖJCH
Trewater By Sunrise
SHCH Golmas Governor
Trewater Goodwill Gossip
owner: Rita Rohrbach, Eggiwil (CH)
website: ".. of Golden Fall"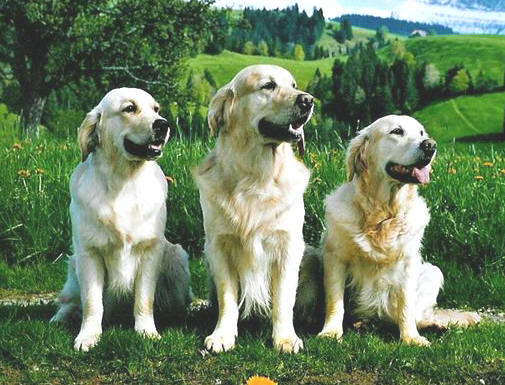 Kim Papa Lance Oma Chelsea
" 3 Generationen "
SHOW

19.9.2004 Journee Familiale - Very Promising 4 (Puppy)
Richter: P.Comer ("Cracksavon")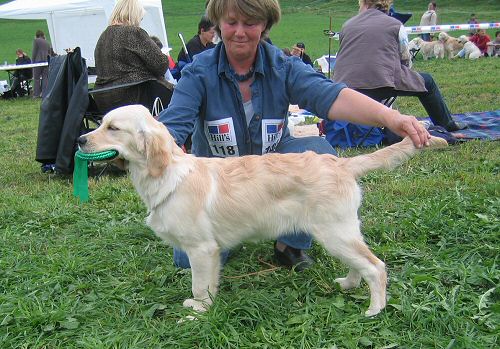 Kim bei ihrem Show-Debut mit 4 Monaten
********
Aug. 2005 Retrievershow Mendrision (CH)- Richter: Wendy Andrews (Catcombe)
Excellent 2 (Offene 1)
******
25.9.2005 Show in Avenches (CH)
Excellent 2 (Offene 1) -
***** Fenster schliessen *****