After a long waiting finally Spice started her season and End of August we drove up to Prag and had a really quick and good mating.
This will be my 18th litter in my kennel "Ganwales", but my FIRST English Springer Spaniel litter. I am thrilled with this new situation and am looking forward to some exciting weeks..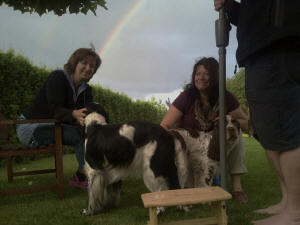 This upcoming litter will be the "Rainbow-litter", you wonder why ? Well here is the explanation:
The whole day we had lovely sunny weather, as we were in no hurry we first had a great meal served from Martina and Mirek to settle in. Then, late afternoon, we desided to do the mating. As Jack is really quick in these things, we knew, it wont take too long. He saw his bride, sniffed at her, she showed him "I'm willing" and on he went. At that second the sky got dark and it started to pour like hell. The dogs tied and we sat under a small tree trying not to get too wet. I felt the drops everywhere and along my back a river was flowing towards the ground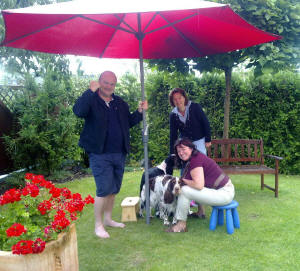 ....luckily Mirek appeared after some wet minutes with a huge umbrella, their umbrella for the patio ! It poured and poured and seemed not wanting to stop, even the dogs began to feel uncomfortable. Then....after 30 minutes they started to wiggle around, wanted to seperate...Suddenly the rain stopped, just like it had begun and on the sky a huge DOUBLE RAINBOW appeared ! We got the camera and while posing the dogs seperated...we didn't even realize it.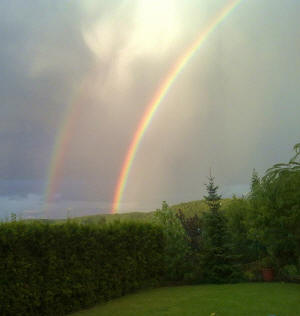 That rainbow was terrific, really amazing in all its colours.
So, this will be the theme for my litter. I will have the letter R this time, as it is my 18th litter, so the puppies will get their names related to "Rainbow"
A double rainbow....isn't this good luck for the litter ?