• HOME • OUR DOGS • PUPPIES • NEWS • FOTOS • INFO •


" Spice "
D.o.B.. Nov 13th. 2009
Austrian Junior Champion
Austrian Champion
Cruftsqualifikation 2011
CACA, CACIB, BOB



hips : HD-A
eyes: clear; PRA, RD, cataract - free
gonioscopy: free
Fuco: free (by parentage)
breeding permission since 8.10.2011

CALVDALE BLAK TO THE FUTURE
EYES - clear, FUCO - clear
PRA Cord-1 - clear
(black & white)
BALDRAGON BACK AGAIN
CLEAVEHILL SLEIGH RIDE
BALDRAGON BROKEN DREAM
CALVDALE TAKE NO PRISONERS
CALVDALE TAKE THE STAND
MOSCODEES MERRY MAID
SHCH TRIMERE TRUE SENSATION
EYES - clear, FUCO - clear
PRA Cord-1 - carrier
(liver & white)

SHCH TRIMERE TRADING PLACES WITH SHELEDAMS
SHCH MOMPESSION ROYAL DESTINY
SHCH TRIMERE TIME & AGAIN
SHCH TRIMERE TRUE DESTINY
SHCH CALMOLLY PETER PIPER
SHCH TRIMERE TEMPTATION
Litters of SPICE: The Rainbows - born 24.10.2012

Spice (22 months)
Spice really is "spicy", but still relaxed enough to company us where ever we go. She behaives like a typical Spaniel, everythng belongs to her, especially Mommy ! She never would dash off, always keeps an eye on us and to forget her somewhere......impossible !
Its funny to watch her, especially when SHE does'nt know it, this often leads to bright laughing, she really is able to think of all kind of odd things to do, in order to keep our attention. As soon she realises that we are laughing because of her, she sits infront of us, and stares at us , and this, with an arrogance, its unbelievable.
As soon our girl gets the opportunity to strike around in the woods and fields, searching for rabbits and birds, she prooves to be a real Springer Spaniel, a gundog like she should be. Alwas alert with her nose down, not to miss anything.

She is a 100% member in our pack, among 4 Golden Retrievers, she insists on her position, brave and without any fear...
....if necessary and .......if one might forget her, she exactly knows how to become center of attraction!
Only her big friend Cagney is allowed to once in a while tell her how to behaive as "member of the pack" , but normally its better not to start an argument with her....she'll win !
Well, I almost forgot to mention, Spice is not only genetically a Springer Spaniel, you would know this as soon you meet her:
She'll jump till she reaches your face, most of the time all 4 paws away from the floor when it comes to express oneself and an always wagging tail with a white tip is typical for our girl.
A phantastic dog on the whole who is loved to pieces, never wanted to be missed again.
A great big THANK YOU goes to her breeder Mrs. Ann Corbett from Great Britain (Trimere Kennel) for giving us the trust and letting us have Spice to start our ESS breeding under the affix GANWALES, and so let others share this love to the breed.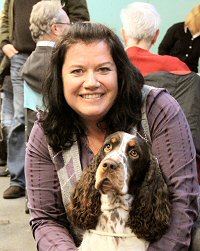 Michaela & Spice
(december 2011)

SHOWRESULTS
results for 2013 and 2014 will follow soon....
16.6.2012 Clubshow Pardubice (CZ) - Nicola Calvert
Excellent 2 Res.CAC
Very pretty tri bitch, good reach of neck, well angulated from back to front
well developed quarters, correct top line, good legs and feet, happy mover
9.6.2012 Clubshow ESS Praha (CZ) - Ray Smith
Excellent 3 (Offene Klasse)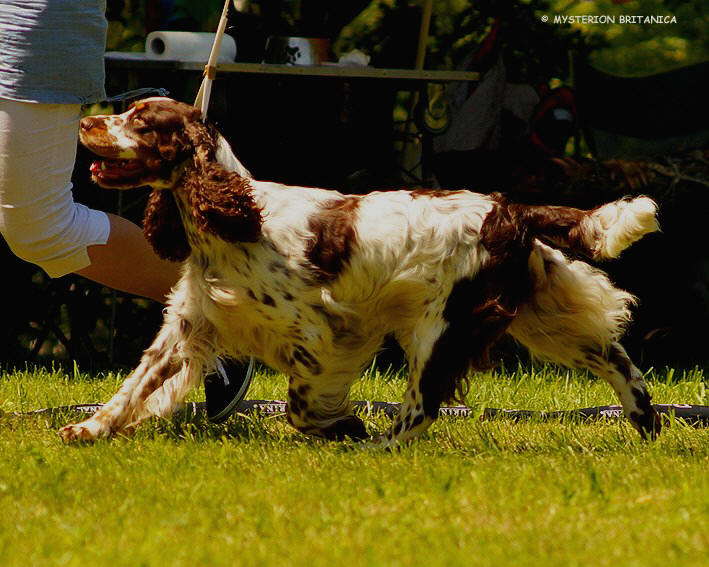 19.5.2012 World Club Winner Anif (Ö) - Christina Daniels
Excellent 3 (Offene Klasse)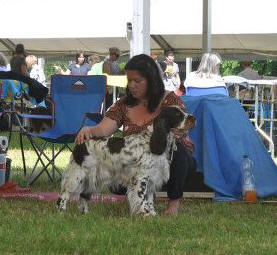 13.5.2012 IHA St. Gallen (CH) - Anna Brankovich
Sehr Gut 1 (Offene Klasse)
14.4.2012 IHA Wieselbug (Ö) - Pavel Sulcek (CZ)
Excellent 1 CACA - CACIB - BOB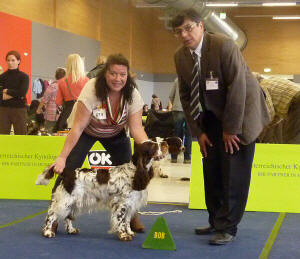 4.12.2012 IHA Wels (Ö) - Excellent 1 CACA (Axel Komorowski)
3.12.2012 IHA Wels(Ö) - Excellent 1 CACA, Res. CACIB (Bertil Lundgren)
9.11.2011 NHA Stuttgart (D) Vorzüglich 1, dt.CAC (E. Clerc)
25.9.2011 CS Jagdspaniel Club Ö - Excellent 2 Res.CACA - (Frank Kane)
2 years excellent breed type, full of quality,with excellent ribs and chest, very good bone and feet, very pretty head which needs a little more stop, today she has too much weight wich spoils her movement, but she is a top quality bitch overall.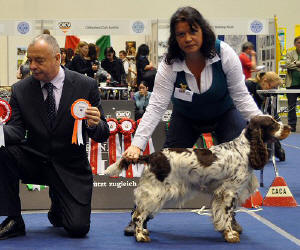 30.7.2011 Klokocuvek u Oder (CZ) - Excellent 3 (Trudy Topliss)
21.5.2011 IHA Salzburg (Ö) - Excellent 1 CACA, CACIB
7.5.2011 Kutna Hora (CZ) - Excellent 1 CAC



Typical situations for Spice
A larger version of the foto will open by clicking on the image, in order to get back to this page, just shut the window.

0ctober 2012, day 50 carrying puppys of RAINBOW litter
Michaela E.-Anderson & Thomas Engstler
A-6714Nüziders, Walgaustrasse 26,
A-1190 Wien, Zehenthofgasse 14
Tel.+ Fax : 0043 (0)5552 68925
mobil: +43 676 7252536
michaela@ganwales.at